Precooked Scrambled
Asian Noodle Bowl
Serving Size: 50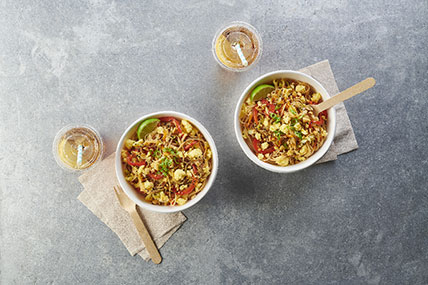 Ingredients
1 cup vegetable oil
14 cups mixed vegetables, chopped
2 medium onions, thinly sliced
½ cup garlic, minced
3 tbsp. ginger, minced
4 gal. chicken broth
80 oz. dried pancit canton noodles, or chow mein noodles
1¼ cup soy sauce
½ cup fish sauce
50 oz. Sunny Fresh® Precooked Scrambled Eggs, thawed
½ cup fresh-squeezed lime juice
¼ cup black sesame seeds, for garnish
Chopped cilantro, for garnish
Preparation
Heat oil in large tilt skillet. Add chopped vegetables and onion, then wok-fry for 3 minutes over high heat.
Add garlic and fry for 1 more minute. Add ginger and continue to stir-fry for a few minutes.
Add broth and bring to boil, then add noodles. Stir gently to help soften noodles. Once softened, reduce heat and cook 5 minutes for noodles to soak up broth.
When noodles are cooked and broth well-reduced, add soy sauce, fish sauce, lime juice and thawed eggs. Taste and add more sauce/juice per your preferences.
Serve in bowl and garnish with chopped cilantro and black sesame seeds.
FEATURED RECIPES
See what we can create together