Precooked Scrambled
Breakfast Pizza
Serving Size: 40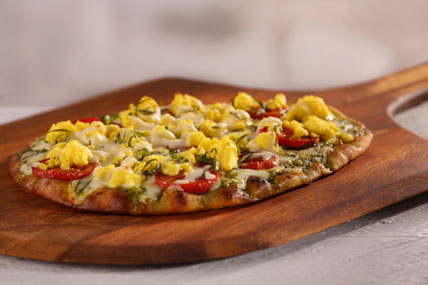 Ingredients
5 lbs. (1 bag) any Sunny Fresh® Pre-Cooked Scrambled Eggs, thawed
1 cup Alfredo sauce
3/4 cup basil pesto sauce
40 oz. (approx. 10 cups) shredded mozzarella cheese
2 ½ cups tomatoes, diced
5 12 x 16 pizza crusts
5 cups sliced caramelized onions
5 cups spinach
Preparation
Preheat convection oven to 400°F. Prepare four full-size sheet pans with a pan liner or non-stick cooking spray.
Place pizza crust on prepared sheet pans.
Divide Alfredo and pesto sauce evenly across all 5 pizza crusts.
Distribute diced tomatoes, sliced caramelized onions, and spinach evenly across pizzas.
Spread 1 pound of scrambled egg per pizza (2 oz. per serving).
Sprinkle shredded cheese over each pizza.
Place pans in oven and heat for 12–15 minutes.
Remove from oven, and let cool five minutes before serving.
FEATURED RECIPES
See what we can create together