Precooked Scrambled
Egg Noodle Bowl
Serving Size: 4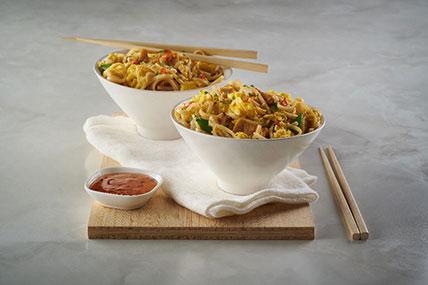 Ingredients
1 tbsp. toasted sesame oil
1 tsp. chopped garlic
1 tsp. chopped ginger
¼ cup diced red peppers
¼ cup soy sauce
¼ cup sweet chili sauce
¼ cup sliced green onions
1 lb. cooked Asian noodles or cooked vermicelli
2 cups Sunny Fresh® Precooked Scrambled Eggs
2 cups cooked diced chicken or tofu
Preparation
In large skillet over medium-high heat, pour sesame oil and heat. Add garlic, ginger, red pepper and green onions. Sauté for 2 minutes until red peppers are soft.
Add soy sauce and sweet chili sauce along with diced chicken or tofu. Cook an additional minute.
Add noodles to pan along with eggs and cooked turkey/chicken.
Heat until eggs and tofu/chicken are heated throughout, approximately 5-6 minutes.
Evenly distribute between 4 bowls and serve with extra side of sweet red chili sauce or a favorite hot sauce.
FEATURED RECIPES
See what we can create together