Precooked Scrambled
Egg Stuffed Peppers
Serving Size: 50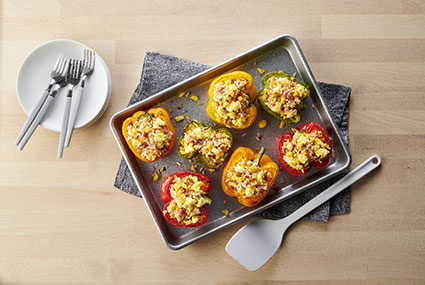 Ingredients
25 Medium size bell peppers
10 lbs. Cooked and cooled white rice
3 lbs. Sunny Fresh® Bacon & Cheese EggStravaganza®
24 oz. Tomato salsa
Preparation
Wash and cut peppers in half through the stem. Remove the seeds and place in a hotel pan. In a large bowl combine cooled rice, EggStravaganza® and salsa.
Assembly
Place about ½ cup of egg filling into each prepared pepper.
Place pan in heated oven and bake at 400ºF for 45-55 min. until peppers are tender. Hold warm for service.
FEATURED RECIPES
See what we can create together