Omelets and Frittatas
Garden Omelet
Serving Size: 24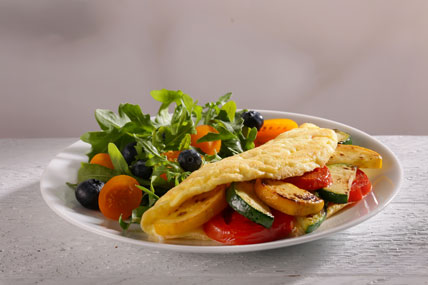 Ingredients
1½ cups olive oil
3¼ cups yellow pepper, sliced
3¼ cups mushroom brown, sliced
3¼ cups onion, sliced
3¼ cups summer squash, sliced
3¼ cups sweet potatoes, cubes, precooked
6 cups spinach
24 each Sunny Fresh® Skillet Omelet with Colby cheese
1½ cups pico de gallo
Preparation
Preheat oven to 350ºF. Place Sunny Fresh® Omelets on a prepared sheet tray and cover with foil. Heat for 10 minutes.
Heat olive oil in sauté pan. Once hot, add pepper, mushrooms, onions, summer squash and sweet potatoes and sauté until onions become translucent and start to brown. Add spinach and cook until spinach has begun to wilt. Remove from heat.
One Serving
Inside one hot Sunny Fresh Plain Omelet, fill with ¾ cup of vegetable filling and top with pico de gallo.
FEATURED RECIPES
See what we can create together