Precooked Scrambled
Hotel Pan Chilaquiles
Serving Size: 50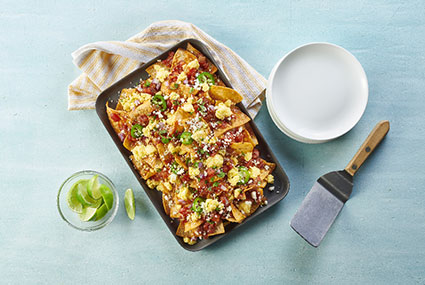 Ingredients
1 lb. Corn tortilla chips
3 cups Enchilada sauce
8 oz. Shredded cheese of choice
1½ lbs. Frozen Sunny Fresh® Precooked Scrambled Eggs
Optional: 3 cups Cooked, drained black beans
Assembly
Toss the chips and enchilada sauce together. Place evenly in 2" hotel pan.
Sprinkle the cheese, eggs and beans (if using), over the top.
Heat and serve
Place in 375ºF oven and heat until edges are slightly charred and cheese is bubbling. Scoop portions out onto serving plate. Optional: Have additional garnishes available to customize like sour cream, green onions, cilantro or salsa.
FEATURED RECIPES
See what we can create together