Precooked Scrambled
Philly Egg "Cheesesteak"
Serving Size: 12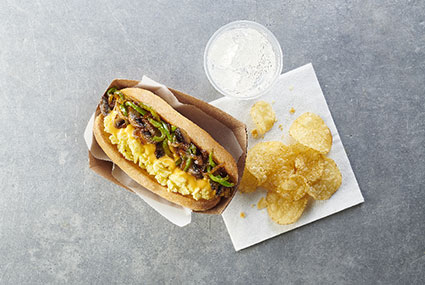 Ingredients
12 whole-wheat hotdog buns
24 oz. Sunny Fresh® Precooked Scrambled Eggs
6 oz. chopped green peppers
6 oz. chopped onions
6 oz. sliced mushrooms
12 oz. Cheddar cheese sauce
Preparation
Warm precooked scrambled eggs to serving temps and hold. Sauté green peppers, onions and mushrooms.
Assembly
Fill hotdog buns with 2 oz. of precooked scrambled eggs, 1.5 oz. of sautéed vegetables, and drizzle 1 oz. cheese sauce on top.
FEATURED RECIPES
See what we can create together