Precooked Scrambled
Turkey & Egg Power Bowl
Serving Size: 50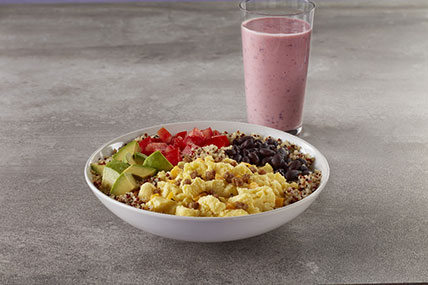 Ingredients
20 lbs. cooked quinoa
4 cups lime juice
50 Roma tomatoes
25 avocados
10 lbs. turkey sausage crumble
18 lbs. black beans
18 lbs. Sunny Fresh® Precooked Scrambled Eggs
5 lbs. shredded cheddar cheese
Optional: cilantro lime crema
Preparation
Season cooked quinoa with lime juice. Salt and pepper to taste.
Dice tomatoes and avocados, and rinse black beans.
Heat convection/combi oven to 350°F. Place thawed scrambled eggs and cooked turkey sausage crumbles in oven for 40 minutes.
To assemble, set base of quinoa and top with diced tomatoes and black beans. Add hot eggs and turkey sausage crumbles, and garnish with cheddar cheese.
Optional: top with cilantro lime crema.
FEATURED RECIPES
See what we can create together