Omelets and Frittatas
Crunchy Egg Taco
Serving Size: 50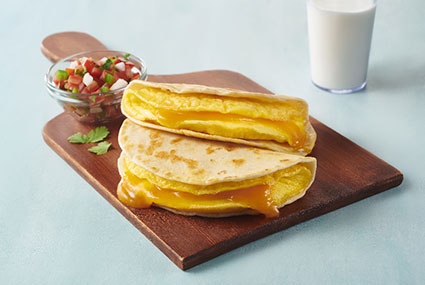 Ingredients
50 6" whole wheat tortilla
50 Sunny Fresh® Cheddar Cheese Omelets
Optional: 25 oz. chorizo
Preparation
Heat omelets and chorizo, if using.
Assembly
Lay out tortillas on parchment lined sheet trays.
Place omelet and optional chorizo on half of the tortilla and fold over.
Heat and serve
When the sheet tray is full with wraps, place and additional sheet tray on top and place into a 400ºF oven. Cook until top and bottom form a nice crunchy surface (usually 8-10 min.) Remove product from oven and place in holding cabinet until service.
FEATURED RECIPES
See what we can create together