Patties
Meatloaf Sandwich
Serving Size: 50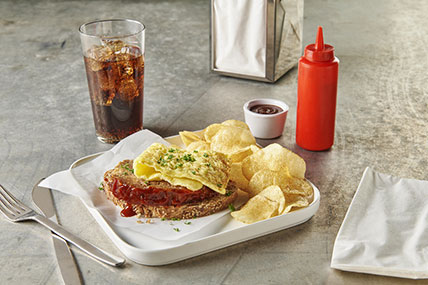 Ingredients
100 slices whole grain bread
50 2-oz. slices meatloaf
50 Sunny Fresh® Scrambled Egg Patties
50 slices American cheese
Preparation
Heat egg patties in oven heated to 350°F., or steamer, for 10 minutes. Heat meatloaf to internal temperature of 165°F.
Butter 1 side of bread and build sandwich like a grilled cheese – adding meatloaf, then cheese, then egg patty.
Skillet/flattop: Place buttered side of bread face down and cook for 2-3 minutes or until toasted. Carefully flip sandwich over and cook other side until toasted and cheese has melted.
Oven: Heat to 350°F. and sandwiches on parchment-lined sheet tray. Bake until toasted and cheese has melted, about 10-12 minutes.
Can be served with side of relish, BBQ sauce or other condiment of choice.
FEATURED RECIPES
See what we can create together