Liquid Eggs
Vegetarian Spaghetti Pie
Serving Size: 50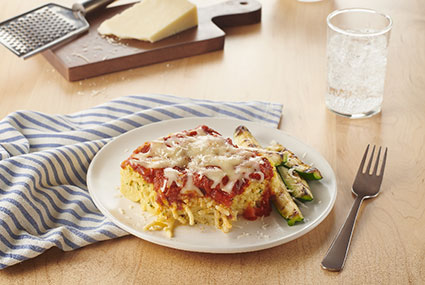 Ingredients
4 lbs. dried spaghetti
4-24 oz. jar seasoned tomato sauce
4 T dried Italian seasoning
2¼ c Sunny Fresh® Liquid Eggs
48 oz. Shredded mozzarella, divided
Preparation
Grease one standard hotel pan. Cook pasta according to package instructions. Drain the cooked pasta and cool under cold running water. In a large bowl combine cooled noodles, sauce, Italian seasoning, liquid eggs and 16 oz. of mozzarella cheese for filling stirring to mix well. Season with salt and pepper.
Assembly
Pour the mixture into prepared pan. Press down to pack the pasta in the pan.
Sprinkle remaining 32 oz of cheese over the top.
Heat and serve
Bake at 350ºF for 90-105 min. until the edges are crispy, cheese on top is melted and warmed through. Cool at least 10 min. before cutting and serving.
FEATURED RECIPES
See what we can create together