Hard Cooked and Diced
Cajun Egg Salad
Serving Size: 24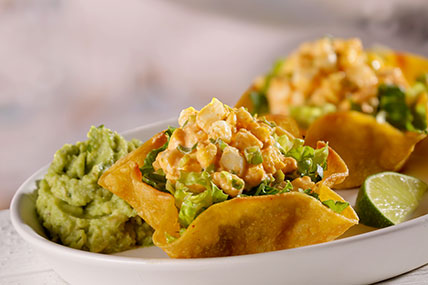 Ingredients
2¼ cups mayonnaise
2 Tbsp cajun seasoning
2¼ cups red onion, chopped
2¼ cups tomatoes, diced
54 oz Sunny Fresh® Diced Egg
2 cups chickpeas, unsalted, canned
8 cups cilantro, chopped
3 cups romaine lettuce, shredded Avocado, diced
36 oz multi-grain tortilla chips
Preparation
In a large mixing bowl, blend together mayonnaise, Cajun seasoning, red onion, tomatoes. Add Sunny Fresh® Diced Egg, chickpeas and cilantro until well mixed.
Additional flavor option
Sriracha Egg Salad: Replace Cajun seasoning with sriracha sauce.
One Serving
Fill bowl with shredded lettuce and avocado and place 11/4 cup egg salad on top. Serve with 1 oz of pita chips.
FEATURED RECIPES
See what we can create together