Hard Cooked and Diced
Deviled Egg Salad Dippers
Serving Size: 50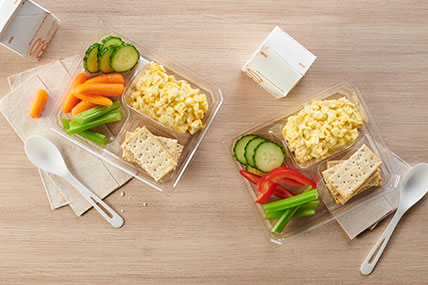 Ingredients
30 Sunny Fresh® Hard Cooked Eggs
¾ c mayo
¼ c mustard
1-2 T hot sauce, such as Tabasco
½ T dill or sweet relish
2 t salt
1 t black pepper
Preparation
Mash the eggs with a potato masher. When desired texture is reached, whisk in all the other ingredients until well combined.
Assembly
½ c deviled egg dip
2 oz celery sticks
2 oz baby carrots
Pinch paprika
Crackers, if desired
Place the deviled egg mix in a compartment of a to-go container and sprinkle with paprika.
Fill remaining container compartments with vegetables and crackers.
FEATURED RECIPES
See what we can create together