Hard Cooked and Diced
Shakshouka
Serving Size: 10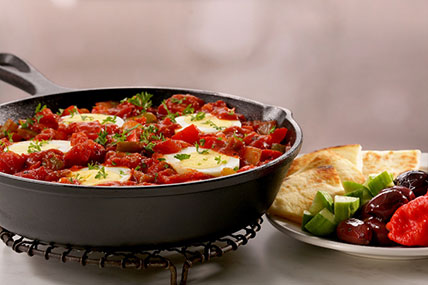 Ingredients
10 Sunny Fresh® Hard Cooked Egg Product, halved
Flat leaf parsley
SHAKSHOUKA BASE:
1 Tbsp olive oil
1 cup white onion peeled and diced
1 clove garlic minced
4 cups ripe diced tomatoes, or 2 cans (14 oz. each) diced tomatoes
2 Tbsp tomato paste
1 green bell pepper seeded and chopped
1 tsp mild chili powder
1 tsp cumin
1 tsp paprika
Pinch of cayenne pepper
Salt and pepper, to taste
Preparation
Prepare Shakshouka base: cook onion, garlic and bell pepper in olive oil until tender (about 8 minutes, using a Dutch oven or Le Creuset style casserole dish), add spices, toast lightly. Add tomato, adjust seasoning and simmer for 20 minutes. Keep warm.
Place halved hard cooked eggs in Shakshouka base and keep warm.
Top with chopped flat leaf parsley when ready to serve.
FEATURED RECIPES
See what we can create together